Ideas for Flipgrid Guest Mode
November 11, 2018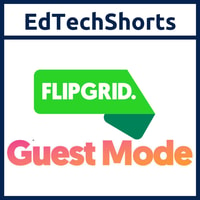 Ideas for Flipgrid Guest Mode
With Flipgrid's recent addition of Guest Mode, Kristin and Joe Merrill, Flipgrid Ambassadors from Florida, shared some fantastic ideas for using Guest Mode in their classrooms that I wanted to highlight on EdTech Shorts.
Speak To An Expert
Family Homework
Schoolwide Challenges

GridPals

Thank a Veteran
You can check out the blog post where they share these ideas here: Welcome to Flipgrid, Guest Mode. You can find Kristin and Joe both on Twitter, and I would recommend adding them to your PLN if you have not already.
Support EdTech Shorts by contributing to their tip jar: https://tips.pinecast.com/jar/edtech-shorts
This podcast is powered by Pinecast.