Student Selector in Google Classroom (Android App)
October 16, 2018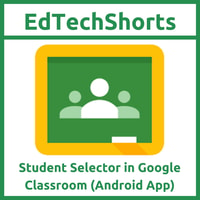 Student Selector in Google Classroom (Android App)
Google has made a new tool available in their Classroom Android App to make it easier for you to randomly select students from your roster and keep track of the students you have, or have not, called upon in class. It is really easy to use. To get started you open you class, tap on the "people" button at the bottom of your class, and then tap the "Random Name" selector on the top of the next screen. The random name selector lets you mark a student as absent if they are not there. You can select "Call Later" if you need to pass on that student for some reason. You can also mark when a student has been called upon so that you won't see their name again until after everyone else in the class has been called upon.
Support EdTech Shorts by contributing to their tip jar: https://tips.pinecast.com/jar/edtech-shorts
This podcast is powered by Pinecast.